Blog
Be sure to come and check out TwistIT Up! performing regularly at Jeff McBride's Wonderground Variety Show every third Thursday of the month at the Olive Restaurant Las Vegas, 8pm.
TwistIT Up! Inc. was a main feature and collaborator for the 2011 Color Reflections Employee Appreciation Party. The theme was circus carnival, with Stella Maria kicking off the show with a performance of classic contortion. Other performers at the event included Faegann Harlow and her fire spinning performance, the fabulous Doc Kairo and Jen O. Cide as host and hostess, and multiple performances by Firefly Bites.
Last Saturday marked the 85th birthday celebration of burlesque legend Dixie Evans. It was a beautiful event that was marked by a large number of  extraordinary performers, including many other burlesque legends. Some of the legends that performed where Shannon Doah, Tiffany Carter, Kitten Natividad,  and Satan's Angel. Also present to honor Dixie was the fabulous Dusty Summers and Tempest Storm. To have the original generations of burlesque along side the newer generations of burlesque was surely amazing!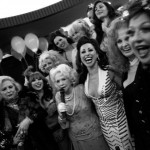 Dixie Evan's, burlesque legend, known best as the "Marilyn Monroe of Burlesque" celebrated her 85th birthday at The Royal Resort in Las Vegas. TwistIT Up!'s Miss Charlamay and her duo partner Hubba Bubba performed their duo burlesque number for guests outside, alongside the pool. Some of the artists to represent Las Vegas where the fabulous Cha Cha Velour, Miss Karla Joy, Renea Le Roux, Kalani Kokonuts, Sue Nami Sake, Theresa Daspit and Vi Vacious. Lou Lou Roxy was also present to help with her wonderful makeup skills for Dixie and other performers and Fawn Douglas did a fantastic job as stage kitten for the evening.There where many people who joined the celebrations, including burlesque performers from Las Vegas and beyond. The event received lots of press and Dixie was more than overjoyed with the outpouring of love and support for her birthday. It was an honor to be present and perform for her!
http://www.artsvegas.com/2011/09/dixie-evans-birthday-bash-royal-resort/
http://www.life.com/image/123714146
http://www.lasvegascitylife.com/articles/2011/09/01/ae/picks/iq_46931959.txt
http://www.lasvegasweekly.com/news/2011/sep/08/royal-celebration/
http://www.lasvegassun.com/news/2011/sep/06/photos-burlesque-legend-dixie-evans-marks-85th-bir/
That's right! TwistIT Up! Inc. can also provide thorough and insightful tarot card readings! TwistIT Up! Inc. is often present doing reading at the monthly local variety show, Jeff McBride's Wonderground Show. Most recently, TwistIT Up! Inc. was at Caesar's Palace providing readings for guest at a wound care nurse's convention! Always a fun time when card readings are available!
Mystasia! of TwistIT Up! Inc. was most recently seen showing her aerial skills at The Rio Hotel Casino Convention Center for home and gardening convention. There to represent TwistIT Up! Inc. was Mathias Skilton of Rumple Skilton Events Las Vegas. Mystasia completed three complete acts for guest as they walked into the large convention center showroom.
TwistIT Up! Inc. was seen throughout the ICC 2011 held at The Sunset Station Hotel Casino Las Vegas recently. The 4 day event kicked off Friday eve at the Sunset Station Cafe, where performers, coaches and fans united for a meet and greet. The convention, headed by ShowBiz President and founder, Ska Von Shöning, was a chance for new and seasoned performers alike, to work together, learn from one another and make lasting connections. TwistIT Up! Inc. was present for the teaching and presentation of the "Yoga Workshop" and presented a new, choreographed duo that included Stella Marie and the bright and upcoming contortionist Alexis Gleason from DEPAC Dance Extensions Performing Arts Center of Canonsburg, PA. Stella Marie also performed her original solo act in the costume worn by Zulu. It was a great chance to get to different people associated with the art of contortion!
TwistIT Up! Inc. was recently seen in conjunction with Hayden Productions at this years AFAN (Aid for AIDS of Nevada) Black and White event at the Cosmopolitan Hotel Casino in Las Vegas. The yearly event took place outside at the upper pool of the brand new Cosmopolitan Hotel Casino. Many guests from Las Vegas shows and celebrity alike joined the event. With TwistIT Up! for evening was Nicholus Quade of Hayden Productions, an entertainment and production company here in Las Vegas. Nicholus provided the 'giant bubble' that Stella Marie was placed inside throughout the evening. Also joining her in sharing 'giant bubble' duty was the beautiful Fran Izzo. It was a successful night and event for the AFAN Non-profit organization. See you all again next year!
http://www.lvrj.com/living/afan-fights-aids-with-cosmo-party-129208293.html
Lady Labella showed her grace, stamina and charm at a recent event in August for a 3 day convention for MasterCard at The Venetian Convention Center. The theme was appropriately carnival, and patrons who entered the room where greeted by a mime  and Lady Labella. From there guests could participate in 3-4 different carnival-like games and win prizes for their scores. Lady Labella also provided guest with some entertainment and photo opportunities. It was a great time and experience for all!
TwistIT Up! Inc. acrobatic hula hooper is ready to perform for your next event!